Product Description
GLT Flexible Shaft Coupling For Step Motor Connect Quick for CNC 3D Print Parts
Description of GLT Flexible Shaft Coupling For Step Motor Connect Quick for CNC 3D Print Parts 
>High torque rigidity, can accurately control the rotation of the shaft, can carry out high-precision control
>Designed for servo and stepping motor
>No gap between the shaft and sleeve connection, general for positive and negative rotation
>Low inertia, suitable for high speed operation
>The diaphragm is made of spring steel with excellent fatigue resistance
Catalogue of GLT Flexible Shaft Coupling For Step Motor Connect Quick for CNC 3D Print Parts
model parameter

common bore diameter d1,d2

ΦD

ΦN

L

LF

d3

LP

S

tightening screw torque
(N.M)

GLT-34×37.5

5,6,6.35,7,8,9,9.525,10,11,12,

34

21.6

37.5

12.15

Φ16

6.8

3.2

1.5

GLT-39×48

6,8,9,9.525,10,11,12,12.7,14,15

39

25

48

15.15

Φ19

9.3

4.5

2.5

GLT-44×48

6,8,9,9.525,10,11,12,12.7,14,15,16,17,18

44

29.6

48

15.15

Φ22.5

9.3

4.2

2.5

GLT-56×61

10,12,12.7,14,15,16,17,18,19,20,22,24

56

38

61

19.9

Φ32.5

10.8

5.2

7

GLT-68×74

14,15,16,17,18,19,20,22,24,25,28,30

68

46

74

24

Φ38.3

14

6

12

GLT-82×98

17,18,19,20,22,24,25,28,30,32,35,38

82

56

98

30.15

Φ45

22.3

7.7

20
model parameter

Rated torque(N.m)

allowable eccentricity

(mm)

allowable deflection angle

(°)

allowable axial deviation

(mm)

maximum speed

(rpm)

static torsional stiffness

(N.M/rad)

weight

(g)

GLT-34×37.5

2

0.12

1.5

±0.18

10000

2200

49

GLT-39×48

4.5

0.15

1.5

±0.23

10000

4500

85

GLT-44×48

6.75

0.17

1.5

±0.27

10000

5500

107

GLT-56×61

20

0.17

1.5

±0.36

10000

11000

196

GLT-68×74

50

0.18

1.5

±0.4

9000

23000

375

GLT-82×98

90

0.18

1.5

±0.5

8000

38000

645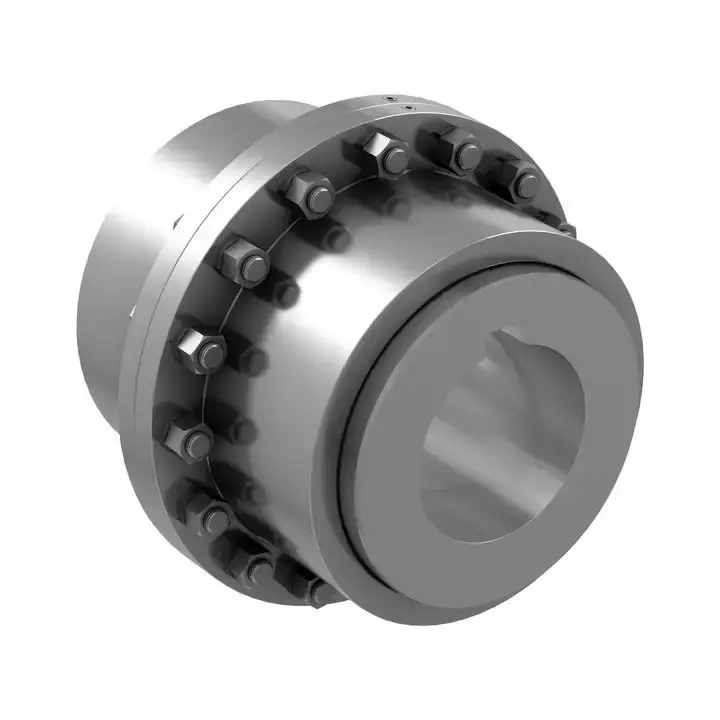 What are the maintenance-free options available for flexible couplings?
Several maintenance-free options are available for flexible couplings, designed to reduce or eliminate the need for regular maintenance and lubrication. These options offer long-lasting performance and reliability while minimizing downtime and operational costs. Below are some maintenance-free options for flexible couplings:
1. Maintenance-Free Elastomeric Couplings: Elastomeric couplings with a specific design and materials can be maintenance-free. These couplings often incorporate high-quality elastomeric elements that do not require periodic lubrication. The elastomeric material provides damping of shocks and vibrations and allows for misalignment compensation, making them suitable for various applications without the need for regular maintenance.
2. Non-Lubricated Metallic Couplings: Some metallic couplings are designed to operate without the need for lubrication. These couplings use self-lubricating materials or specialized coatings that reduce friction between moving parts, eliminating the need for manual lubrication. They can handle high torque and speed requirements while providing reliable performance over extended periods without maintenance.
3. Pre-Lubricated Couplings: Certain flexible couplings come pre-lubricated during manufacturing. These couplings have grease or lubricant already applied to the critical components, providing sufficient lubrication for an extended period of operation. As a result, users do not need to perform regular lubrication maintenance, reducing maintenance tasks and associated costs.
4. Sealed Couplings: Some flexible couplings are designed with integrated seals or shields that protect internal components from contaminants and prevent lubricant leakage. These sealed couplings are inherently maintenance-free, as they ensure long-lasting performance without the need for external maintenance or re-lubrication.
5. Non-Wearing Materials: Certain flexible couplings are constructed using non-wearing materials, such as high-performance polymers. These materials offer excellent resistance to wear and abrasion, reducing the need for maintenance and replacement due to wear-related issues.
6. Torque-Responsive Couplings: Some maintenance-free couplings are designed to disengage or slip when the torque exceeds a certain threshold. This feature protects the connected equipment from excessive loads, preventing damage and reducing the need for maintenance or repairs caused by overload conditions.
Summary: Maintenance-free options for flexible couplings are available, offering reliable and long-lasting performance without the need for regular maintenance and lubrication. These couplings utilize specialized materials, designs, and features to handle various operating conditions while minimizing downtime and operational costs. Selecting a maintenance-free coupling that suits the specific application requirements can significantly improve the overall efficiency and reliability of the mechanical system.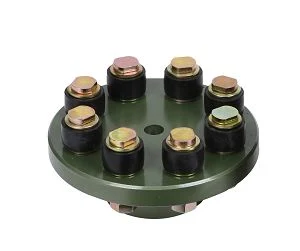 What are the differences between single and double flexible coupling designs?
Single and double flexible couplings are two common designs used for power transmission in various mechanical systems. Here are the main differences between the two:
Design: The primary difference lies in their configuration. A single flexible coupling consists of one flexible element connecting two shafts, while a double flexible coupling, also known as a two-piece flexible coupling, uses two flexible elements with an intermediate shaft in between. The double flexible coupling resembles two single couplings connected in series.
Torsional Flexibility: Single flexible couplings typically provide greater torsional flexibility than double flexible couplings. The presence of an intermediate shaft in the double coupling design adds some rigidity and reduces the overall torsional flexibility of the system.
Compensation of Misalignment: Both single and double flexible couplings can compensate for angular and parallel misalignment between shafts. However, due to its additional flexible element, the double flexible coupling may have slightly better misalignment compensation capabilities.
Length and Space: Single flexible couplings are generally shorter in length compared to double flexible couplings. The double flexible coupling's design requires additional space to accommodate the intermediate shaft, making it longer than the single coupling.
Shaft Separation: Single flexible couplings connect the two shafts directly without any intermediate components, while the double flexible coupling separates the shafts using an intermediate shaft. This shaft separation in the double design can be advantageous in certain applications.
Stiffness: The double flexible coupling tends to be slightly stiffer than the single flexible coupling due to the presence of the intermediate shaft, which may affect its ability to absorb vibrations and shock loads.
Application: Single flexible couplings are commonly used in various applications, including pumps, compressors, fans, and general power transmission systems. Double flexible couplings are often preferred in applications where a higher level of torsional stiffness is required, such as certain industrial machinery.
Both single and double flexible coupling designs have their advantages and are suitable for different types of machinery and power transmission requirements. The choice between the two depends on factors such as the specific application, the level of misalignment compensation needed, the available space, and the desired torsional flexibility for the system.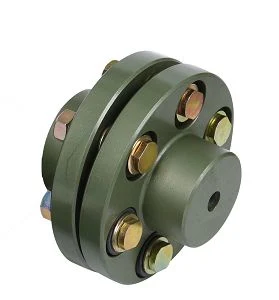 How do flexible couplings compare to other types of couplings in terms of performance?
Flexible couplings offer distinct advantages and disadvantages compared to other types of couplings, making them suitable for specific applications. Here is a comparison of flexible couplings with other commonly used coupling types in terms of performance:
Rigid couplings are simple in design and provide a solid connection between two shafts, allowing for precise torque transmission. They do not offer any flexibility and are unable to compensate for misalignment. As a result, rigid couplings require accurate shaft alignment during installation, and any misalignment can lead to premature wear and increased stress on connected equipment. Rigid couplings are best suited for applications where shaft alignment is precise, and misalignment is minimal, such as in well-aligned systems with short shaft spans.
Flexible couplings, as discussed previously, excel at compensating for misalignment between shafts. They offer angular, parallel, and axial misalignment compensation, reducing stress on connected components and ensuring smooth power transmission. Flexible couplings are versatile and can handle various applications, from light-duty to heavy-duty, where misalignment, vibration damping, or shock absorption is a concern. They provide a cost-effective solution for many industrial, automotive, and machinery applications.
Oldham couplings are effective at compensating for angular misalignment while maintaining constant velocity transmission. They offer low backlash and electrical isolation between shafts, making them suitable for precision motion control and applications where electrical interference must be minimized. However, Oldham couplings have limited capacity to handle parallel or axial misalignment, and they may not be suitable for applications with high torque requirements.
Gear couplings are robust and can handle high torque levels, making them suitable for heavy-duty applications such as mining and steel mills. They offer good misalignment compensation and have a compact design. However, gear couplings are relatively more expensive and complex than some other coupling types, and they may generate more noise during operation.
Disc couplings provide excellent misalignment compensation, including angular, parallel, and axial misalignment. They have high torsional stiffness, making them ideal for applications where accurate torque transmission is critical. Disc couplings offer low inertia and are suitable for high-speed applications. However, they may be more sensitive to shaft misalignment during installation, requiring precise alignment for optimal performance.
The choice of coupling type depends on the specific requirements of the application. Flexible couplings excel in compensating for misalignment and vibration damping, making them versatile and cost-effective solutions for many applications. However, in situations where high torque, precision, or specific electrical isolation is necessary, other coupling types such as gear couplings, disc couplings, or Oldham couplings may be more suitable. Proper selection, installation, and maintenance of the coupling are essential to ensure optimal performance and reliability in any mechanical system.



editor by CX 2023-09-11