Product Description
Material

20CrMn5,20CrMnTi,40Cr,Powder deposit,45#steel,42CrMo,Stainless steel and so on as per your requests.

Custom

OEM/ODM

Lead Time

Sample: 20-30 days after deposit received, Batch goods: 30-45days after samples have been approved. Die opening product:7-15days after samples have been approved.It takes 45-60 days to open the mold.

Processing

Forging,Machining,Hobbing,Milling,Shaving,Grinding teeth, inserting teeth, shot blasting, Grinding,Heat treatment……

Heat Treatment

Intermediate frequency, high frequency, tempering, desalinating, carburizing……

Main Machines

CNC gear hobbing machine, CNC gear cutting machine, CNC lathe, CNC gear shaving machine, CNC gear milling machine, CNC gear grinding machine, CNC Grinding Machine….
..
Ruika has been engaged in manufacturing of forgings, castings, heat treatment and CNC machining parts since 1999.  
The products materials have passed EN15714-3.1 certification, covering various grades of: low carbon steel, alloy steel, stainless steel, ductile iron, aluminum alloy, copper alloy, titanium alloy. 
The main processes are: free forging, die forging, rolling ring, high pressure casting, centrifugal casting, normalizing, quenching and tempering, solution treatment, aging treatment, carbonitriding, turning, milling, drilling, grinding, hobbing, high frequency quenching, galvanizing, chrome plating, anodizing, powder spraying and other processes.
Rings and plates dimensions: Max 3000mm, shafts length: Max 12000mm, single piece weight: Max 16 Tons, at the same time we are good at terminal machining of complex products, dimension accuracy: Min 0.01mm, roughness: Min Ra0.6. 
Products can be strictly examined by chemical composition, tensile strength, yield strength, reduction of area, impact at low temperature, intergranular corrosion, hardness, metallographic, NDT, size, static balance etc performance parameter. 
Products are widely used in: aerospace, ships, trains, automobiles, engineering vehicles, chemical industry and petroleum refining, wellheads, x-mas tree equipment, mining machinery, food machinery, hydraulic and wind power generation, new energy equipment etc field. 
Welcome to send: PDF, IGS, STP and other format drawings, of course we could also make material judgment and size survey according to your samples. 
With more than 20 years of manufacturing experience and overseas sales team, we have achieved 100% customer satisfaction. The warranty period of products sold is 365 days. We look CZPT to your consultation and cooperation at any time and common prosperity development.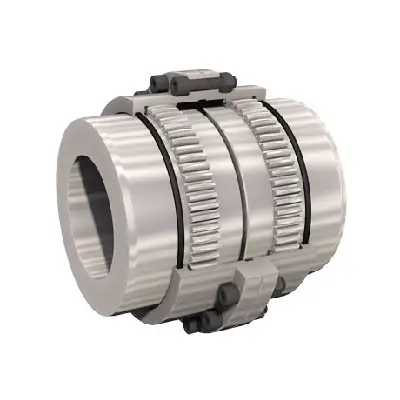 Safety Considerations When Using Flexible Gear Couplings in Critical Applications
Flexible gear couplings are widely used in critical applications where safety and reliability are of utmost importance. While these couplings are designed to accommodate misalignments and reduce vibrations, there are some safety considerations to keep in mind:
Proper Installation: Ensure that the flexible gear coupling is installed correctly according to the manufacturer's guidelines. Improper installation can lead to premature failure and safety hazards.
Regular Inspection: Perform regular inspections and maintenance to identify any signs of wear, damage, or misalignment. Addressing issues promptly can prevent unexpected failures.
Torque and Speed Ratings: Adhere to the specified torque and speed ratings of the coupling. Operating the coupling beyond its limits can lead to catastrophic failure.
Environmental Conditions: Consider the environmental conditions in which the coupling will operate. Factors such as temperature, humidity, and the presence of corrosive substances can impact the coupling's performance and safety.
Emergency Stop Mechanism: In critical applications, it is essential to have an emergency stop mechanism in place to quickly disengage the coupling during emergencies.
Overload Protection: Implement overload protection systems to prevent excessive torque transmission, which could cause damage to connected equipment.
Periodic Maintenance: Follow a regular maintenance schedule to ensure that the coupling remains in optimal condition and to identify any potential safety risks.
Training and Awareness: Ensure that personnel operating and maintaining the equipment are adequately trained and aware of the safety considerations related to the flexible gear coupling.
By adhering to these safety considerations and following best practices, the use of flexible gear couplings in critical applications can contribute to safe and reliable operation, reducing the risk of downtime and costly failures.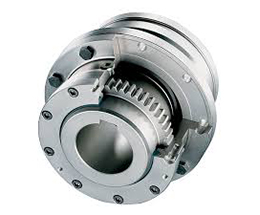 Reduction of Noise and Damping of Vibrations in Mechanical Systems Using Flexible Gear Couplings
Flexible gear couplings can effectively reduce noise and dampen vibrations in mechanical systems due to their unique design and material properties. The key factors contributing to noise reduction and vibration damping are as follows:
Tooth Profile: Flexible gear couplings use gear teeth with specially designed profiles that help in smoother meshing and engagement. The teeth geometry allows for gradual contact, minimizing impact and noise during torque transmission.
Metallic Flexibility: The flexibility of the coupling's metallic components helps in absorbing and dissipating vibrations generated during operation. This flexibility prevents vibrations from propagating throughout the system, reducing overall noise levels.
Resonance Damping: Flexible gear couplings can dampen resonant vibrations that might occur in the system. Resonance can lead to increased noise and mechanical stress, but the damping effect of the coupling helps to mitigate these issues.
Torsional Stiffness: While flexible gear couplings offer flexibility, they also provide sufficient torsional stiffness, ensuring smooth and precise torque transmission. This stiffness prevents excessive torsional vibrations from being transmitted to connected components.
Misalignment Compensation: The ability of flexible gear couplings to accommodate misalignments between shafts further reduces mechanical stress and vibrations, enhancing the overall performance of the system.
Due to these features, flexible gear couplings are commonly used in applications where noise reduction and vibration damping are crucial. They find applications in various industries, including heavy machinery, steel mills, power generation, and pulp and paper manufacturing, where smooth and quiet operation is essential for the efficiency and longevity of the equipment.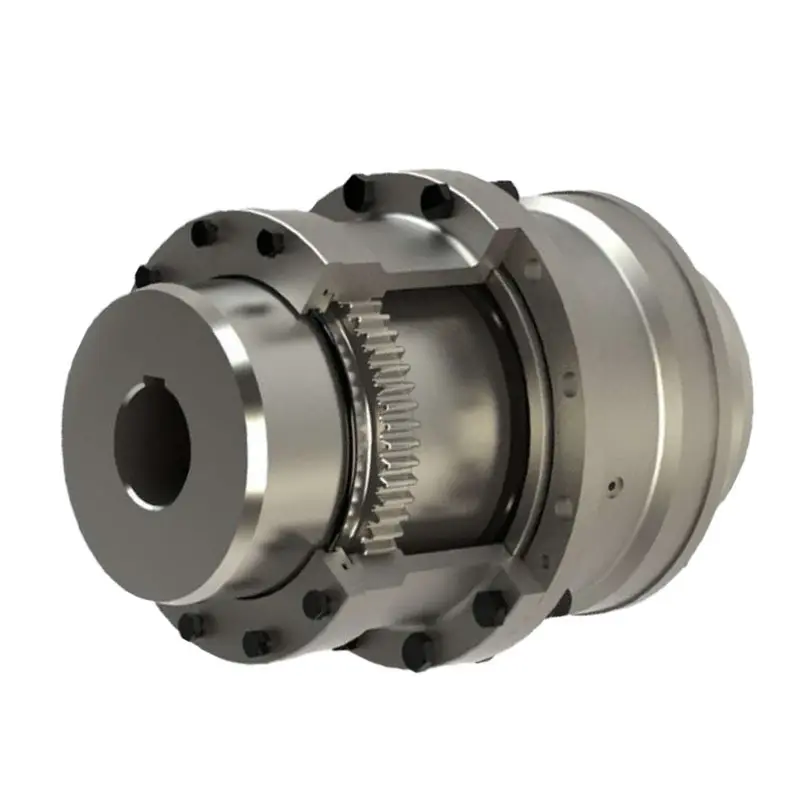 Proper Installation of Flexible Gear Couplings for Optimal Performance and Reliability
Proper installation of a flexible gear coupling is crucial to ensure its optimal performance, reliability, and longevity. Here are the steps to follow for a successful installation:
Inspect the Coupling: Before installation, carefully inspect the coupling components, including the hubs, gear teeth, and flexible element, for any damage or defects.
Clean the Components: Ensure that all components are clean and free from dirt, debris, and any contaminants that could affect the coupling's performance.
Check Alignment: Verify that the shafts of the connected equipment are properly aligned within the manufacturer's recommended tolerances. Misalignment can lead to premature wear and failure of the coupling.
Grease or Lubricate: Apply the appropriate coupling lubricant or grease to the gear teeth and the flexible element. Lubrication helps reduce friction, heat generation, and wear.
Assemble the Coupling: Carefully assemble the coupling by aligning the gear teeth of the hubs and the internal sleeve. Follow the manufacturer's guidelines for the correct orientation and positioning.
Tighten Fasteners: Gradually tighten the fasteners, such as bolts or screws, in a cross-pattern to ensure even pressure distribution. Do not overtighten, as it can cause deformation of the coupling components.
Perform a Trial Run: After installation, perform a trial run to check for any abnormalities, unusual noises, or vibrations. Monitor the coupling during the trial run to detect any potential issues.
Regular Maintenance: Implement a regular maintenance schedule to inspect and lubricate the coupling periodically. Follow the manufacturer's maintenance guidelines to ensure the coupling's continued performance and reliability.
Replace Worn Components: If any components of the coupling show signs of wear or damage during maintenance inspections, replace them promptly to prevent further issues.
It is essential to follow the manufacturer's installation instructions and guidelines specific to the flexible gear coupling model to achieve the best results. Proper installation enhances the coupling's ability to handle misalignment, transmit torque efficiently, and ensure reliable operation in the power transmission system.



editor by CX 2023-09-04