Product Description
Spline gear 15T 125X51X45X60 Coupling gear Flexible Coupling for Excavator
Our main products:
steel cover lock, filter, oil grid, pump, cylinder head, crankshaft, camshaft, connecting rod, connecting rod bearing, valve, plunger, nozzle, exhaust valve, engine assembly, intake pump , fan blade, engine preheater, radiator, intake valve, main bearing, crankshaft bearing, nozzle, nozzle pipe, oil pump, piston, piston pin, piston ring, plunger, valve seat, thrust bearing, valve guide, valve Seats, valve seals, gasket sets, water pumps, turbochargers, generators, starters, sensors…
COUPLING/COUPLING ASSY
NO.
LB NO.
Model
OEM NO.
Name
NO.
LB NO.
Model
OEM NO.
Name
NO.
LB NO.
Model
OEM NO.
Name
1
KLB-Q2001
 
25H  162*92
COUPLING
22
KLB-Q2571
16A
155*76
COUPLING
43
KLB-Q2043
S32S
235*97
COUPLING
2
KLB-Q2002
MS110 DH55
30H 195*105
COUPLING
23
KLB-Q2571
16AS
155*76
COUPLING
44
KLB-Q2044
S25S
163*58
COUPLING
3
KLB-Q2003
30H
195*105
COUPLING ASSY
24
KLB-Q2571
22A
153*76
COUPLING
45
KLB-Q2045
E200B
14T
COUPLING
4
KLB-Q2004
EX200-2
40H 170*90
COUPLING
25
KLB-Q2571
25A
185*102
COUPLING
46
KLB-Q2046
50AC
14T  205*40
COUPLING
5
KLB-Q2005
40H
170*90
COUPLING ASSY
26
KLB-Q2026
25AS
185*102
COUPLING
47
KLB-Q2047
SH280
 
COUPLING
6
KLB-Q2006
45H
183*92
COUPLING
27
KLB-Q2571
28A
178*93
COUPLING
48
KLB-Q2048
E200B  12T
 
COUPLING
7
KLB-Q2007
45H
183*92
COUPLING ASSY
28
KLB-Q2571
28AS
178*93
COUPLING
49
KLB-Q2049
50AM  16T
205*45
COUPLING
8
KLB-Q2008
90H
203*107
COUPLING
29
KLB-Q2571
30A
215*118
COUPLING
50
KLB-Q2050
SH200
14T  205*40
COUPLING
9
KLB-Q2009
90H
203*107
COUPLING ASSY
30
KLB-Q2030
30AS
215*118
COUPLING
51
KLB-Q2051
E330C
350*145
COUPLING
10
KLB-Q2571
50H
195*110
COUPLING
31
KLB-Q2031
50A
205*108
COUPLING
52
KLB-Q2052
E330C
 
COUPLING
11
KLB-Q2011
50H
195*110
COUPLING ASSY
32
KLB-Q2032
50AS
205*108
COUPLING
53
KLB-Q2053
168mm*48m 26T 3H
 
COUPLING
12
KLB-Q2012
110H
215*110
COUPLING
33
KLB-Q2033
90A
272*140
COUPLING
54
KLB-Q2054
242mm*72mm 50T 8H
 
COUPLING
13
KLB-Q2013
110H
215*110
COUPLING ASSY
34
KLB-Q2034
90AS
272*140
COUPLING
55
KLB-Q2055
295mm*161mm 48T 12H
 
COUPLING
14
KLB-Q2014
140H
245*125
COUPLING
35
KLB-Q2035
140A
262*132
COUPLING
56
KLB-Q2056
352mm*161mm 48T 8H
 
COUPLING
15
KLB-Q2015
140H
245*125
COUPLING ASSY
36
KLB-Q2036
140AS
262*132
COUPLING
57
KLB-Q2057
352mm*161mm 46T 8H
 
COUPLING
16
KLB-Q2016
160H
255*134
COUPLING
37
KLB-Q2037
E300B
16T  278*54
COUPLING
58
KLB-Q2058
318mm*72mm 50T 8H
 
COUPLING
17
KLB-Q2017
160H
255*134
COUPLING ASSY
38
KLB-Q2038
E450
16T 360*52
COUPLING
59
KLB-Q2059
315mm 42T
 
COUPLING
18
KLB-Q2018
4A
104*53
COUPLING
39
KLB-Q2039
SH430
12T  205*35
COUPLING
60
KLB-Q2060
268mm*100mm 42T 6H
 
COUPLING
19
KLB-Q2019
4AS
104*53
COUPLING
40
KLB-Q2040
SH200
14T  205*40
COUPLING
61
KLB-Q2061
167mm*90mm 47T 3H
 
COUPLING
20
KLB-Q2571
8A
130*70
COUPLING
41
KLB-Q2041
50ASM
20T  205*40
COUPLING
62
KLB-Q2062
182mm 42T
 
COUPLING
21
KLB-Q2571
8AS
130*70
COUPLING
42
KLB-Q2042
SH160(SH60)
15T 173*22
COUPLING
63
KLB-Q2063
220mm 46T
 
COUPLING
1Q:What is your brand?
1A:Our own brand: Mita Group and its range of excavator parts.
2Q:Do you have your own factory? Can we have a visit?
2A:Absolutely, you are alwayswelcome to visit our factory.
3Q:How do you control the quality of the products?
3A:Our factory was obtained the ISO9001CERTIFICATE.Every process of the production is strictly controlled. And all products will be inspected by QC before shipment.
4Q:How long is the delivery time?
4A:2 to 7 days for ex-stock orders. 15 to 30 days for production.
5Q:Can we print our company logo onproduct and package?
5A:Yes, but the quantity of the order is required. And we need you to offer the Trademark Authorization to us.
6Q:Can you provide OEM BRAND package?
6A:Sorry, we can only offer our company ACT BRAND package or neutral packing,blank package ifyou need, and the Buyers' Brand as authorized.7Q:How long is the warranty period?7A:3 months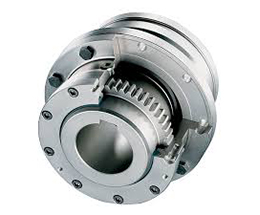 Common Industries and Use Cases for Flexible Gear Couplings
Flexible gear couplings find widespread applications across various industries due to their ability to transmit torque efficiently while accommodating misalignments and reducing vibrations. Some of the common industries and specific use cases include:
1. Power Generation:
Flexible gear couplings are extensively used in power generation plants, including thermal power plants, hydroelectric power plants, and wind farms. They connect turbines, generators, and other rotating equipment, allowing for smooth power transmission and accommodating misalignments caused by thermal expansion or settling.
2. Steel and Metal Processing:
In steel and metal processing industries, flexible gear couplings are employed in rolling mills, continuous casting machines, and other heavy machinery. They handle the high torque and misalignments that occur during metal forming processes, providing reliable power transmission and reducing downtime.
3. Petrochemical and Oil & Gas:
These industries often deal with harsh environments, high temperatures, and corrosive substances. Flexible gear couplings with appropriate materials and coatings are used in pumps, compressors, and other critical equipment to ensure efficient power transmission and reliability.
4. Mining:
Mining operations involve large machines and heavy loads, requiring couplings that can handle substantial torque and misalignment. Flexible gear couplings are used in conveyor systems, crushers, and other mining equipment to maintain smooth and efficient operation.
5. Marine and Shipbuilding:
In marine applications, flexible gear couplings are used to connect marine diesel engines to propeller shafts. They absorb vibrations and misalignments caused by the motion of the ship, ensuring reliable power transmission and reduced wear on the propulsion system.
6. Pulp and Paper:
In the pulp and paper industry, flexible gear couplings are utilized in various stages of the papermaking process, including pulp refiners, digesters, and winding machines. They provide precision torque transmission and minimize vibrations, contributing to the efficiency of the paper production process.
These are just a few examples, and flexible gear couplings can be found in many other industries, such as cement, chemical, food and beverage, and more. Their versatility and ability to handle challenging conditions make them a preferred choice in various power transmission applications across industries.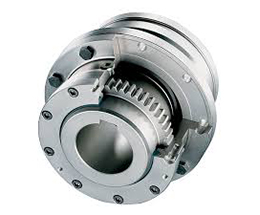 Reduction of Noise and Damping of Vibrations in Mechanical Systems Using Flexible Gear Couplings
Flexible gear couplings can effectively reduce noise and dampen vibrations in mechanical systems due to their unique design and material properties. The key factors contributing to noise reduction and vibration damping are as follows:
Tooth Profile: Flexible gear couplings use gear teeth with specially designed profiles that help in smoother meshing and engagement. The teeth geometry allows for gradual contact, minimizing impact and noise during torque transmission.
Metallic Flexibility: The flexibility of the coupling's metallic components helps in absorbing and dissipating vibrations generated during operation. This flexibility prevents vibrations from propagating throughout the system, reducing overall noise levels.
Resonance Damping: Flexible gear couplings can dampen resonant vibrations that might occur in the system. Resonance can lead to increased noise and mechanical stress, but the damping effect of the coupling helps to mitigate these issues.
Torsional Stiffness: While flexible gear couplings offer flexibility, they also provide sufficient torsional stiffness, ensuring smooth and precise torque transmission. This stiffness prevents excessive torsional vibrations from being transmitted to connected components.
Misalignment Compensation: The ability of flexible gear couplings to accommodate misalignments between shafts further reduces mechanical stress and vibrations, enhancing the overall performance of the system.
Due to these features, flexible gear couplings are commonly used in applications where noise reduction and vibration damping are crucial. They find applications in various industries, including heavy machinery, steel mills, power generation, and pulp and paper manufacturing, where smooth and quiet operation is essential for the efficiency and longevity of the equipment.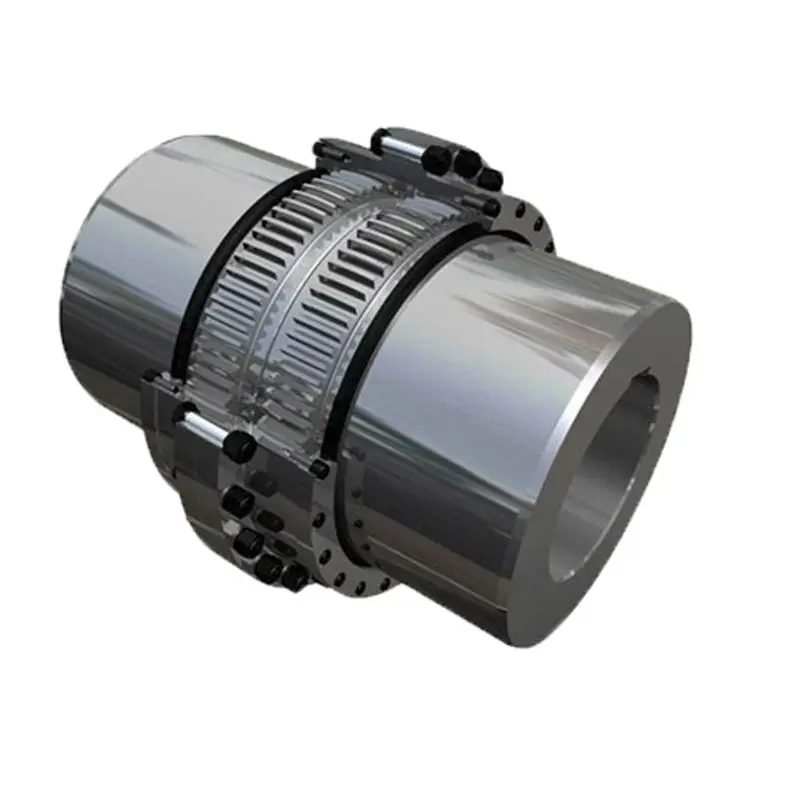 Industry Standards and Certifications for Flexible Gear Couplings
Flexible gear couplings are essential components in mechanical power transmission systems, and there are industry standards and certifications that govern their design, manufacturing, and performance. Some of the most commonly recognized standards and certifications for flexible gear couplings include:
ISO 9001: This certification ensures that the manufacturer follows a quality management system that meets international standards, ensuring consistent and reliable production of flexible gear couplings.
AGMA Standards: The American Gear Manufacturers Association (AGMA) has published various standards related to gear couplings, including AGMA 9002 for flexible couplings, which provides guidelines for design, selection, installation, and lubrication.
API Standards: The American Petroleum Institute (API) has established standards for couplings used in the oil and gas industry. API 671 specifically covers the requirements for special-purpose couplings, including gear couplings, used in petroleum, chemical, and gas industry services.
CE Marking: The CE marking indicates that the flexible gear coupling complies with the European Union's health, safety, and environmental protection standards, making it eligible for sale within the EU market.
ATEX Certification: If the flexible gear coupling is intended for use in potentially explosive atmospheres, it may require ATEX certification, which ensures compliance with European Union directives for explosive atmosphere protection.
When selecting a flexible gear coupling, it is essential to verify if it conforms to the necessary industry standards and certifications to ensure the coupling's performance, safety, and reliability in your specific application.



editor by CX 2023-08-18